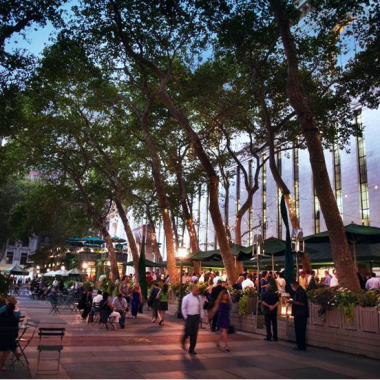 Atlas New York Art and Design
July 10, 2015
The luxury apartments at Atlas New York put you in the center of one of the most exciting meccas of art and culture in the world. It's no secret that New York's museums and galleries present new exhibitions year 'round – these are the events and attractions that garner the most press and buzz in the art world. But there are also plenty of unexpected works of art and cultural treasures on view all the time in various places, and Atlas New York is within walking distance of many of them:
Located in the recently refurbished former home of legendary financier J.P. Morgan at 36th and Madison, the Morgan Library and Museum houses Morgan's eccentric and wonderful collection of rare books, prints and drawings, manuscripts, and ephemera. Renzo Piano's modern addition to the museum's grounds expanded upon the original structure designed by Charles McKim of McKim, Mead and White. The Morgan is especially renowned for its collection of medieval works such as the metalwork covers of the Lindau Gospels and the Stavelot Triptych. Other surprises include original manuscripts by Sir Walter Scott and Honoré de Balzac, and the scraps of paper upon which a young Bob Dylan sketched out the songs "It Ain't Me Babe" and "Blowin' in the Wind." Works by Albrecht Dürer, Michelangelo, Raphael, Rembrandt, and Rubens also make the Morgan well worth a repeat visit. For hours and exhibition info, visit http://www.themorgan.org.
Known to fashionistas everywhere as the epicenter of New York Fashion Week, Bryant Park shouldn't be overlooked once the tents come down. This nine-acre green jewel right next to the stately New York Public Library is managed by the Bryant Park Corporation and has been widely praised by city planners as a model for successful private/public partnerships. Bryant Park has also become a midday oasis for New Yorkers who work in Midtown, and despite its small size it features a delightful and quirky array of amenities. In the early 2000s Bryant Park welcomed a custom-built carousel designed by Marvin Sylvor and an open-air library called The Reading Room which hosts literary events. The Bryant Park Grill and the Bryant Park Cafe are both superb, and 'wichcraft operates four food kiosks on the park's western side. In addition to its art programming and the recent addition of two stainless steel-and-marble sculptures by Italian architect Antonio Pio Saracino, Bryant Park runs Art Cart, a program that furnishes kids with art supplies and lessons in drawing from life using park surroundings as inspiration from April through October. For more information on Art Cart or other Bryant Park activities, visit http://www.bryantpark.org.
About a mile north of the Morgan, the Museum of Modern Art (MoMA) on 53rd Street between Fifth and Sixth Avenues is perhaps the foremost museum of 20th-century art in the world. The iconic paintings you'll find here are like the faces of old friends, so familiar are they from books, documentaries, postcards, and posters. Pablo Picasso's 1907 arresting group portrait, Les Demoiselles d'Avignon, is like a cubist reincarnation of the classic "three graces" so frequently spotted in Western art, reimagined with a hard edge and intense eye contact. The Museum's design department has been instrumental in making the design of consumer products and everyday objects the focus of serious study, and their early exhibitions of furniture and household goods can be credited with popularizing the "good design" movement of the mid 20th century. MoMA's holdings include more than 150,000 individual works as well as about 22,000 films, and galleries rotate so visitors can view new works from the collection on an ongoing basis. For hours and exhibition info, visit http://www.moma.org.
Considered MoMA's elder, more classical sibling, the Metropolitan Museum of Art, founded in 1872, is New York's "encyclopedic" museum, meaning that like the Louvre in Paris, its holdings span the millennia, from the ancient world to contemporary art and design. The Met's location inside Central Park on Fifth Avenue provide an idyllic setting in which to view extraordinary objects and enjoy a New York City afternoon with friends. Whether you're interested in Ancient Rome, the Middle Ages, Chinese art, Impressionist paintings, fashion, or photography, it's all here alongside much more. The Met also has a smaller "satellite" museum in upper Manhattan called the Cloisters which features elements of medieval monasteries that were shipped to the US and reconstructed by John D. Rockefeller, Jr. in 1938. The Met's permanent collection includes more than two million objects, and the main building houses galleries, period rooms, and installations such as the Tomb Chapel of Raemkai from ancient Egypt, which is protected by glass so visitors can explore its interior. Less well-known are the Museum's collections of objects such as musical instruments. For hours and exhibition info, visit http://www.metmuseum.org.
After a day of museum-hopping or gallery visits, you might be surprised and delighted to find there is a work of art in the lobby of Atlas New York, too. One entire wall of the lobby is occupied by an installation of photographic art glass by New York-based artist Amanda Weil. The piece in the lobby of Atlas New York is a backlit wall of glass tiles with photogrammed images of textiles that are juxtaposed with a sea and sky landscape. The resulting image looks familiar but doesn't directly represent anything you've seen before. As a work of art meant to welcome residents and visitors, it grounds Atlas New York in a traditional material (fabric) as well as in nature itself. Weil established her studio in 1993 and has been creating installations for both public and residential spaces ever since. She holds a BA from Harvard College and took part in The Whitney Museum's famed Independent Study program. She serves on the board of Creative Time, a foundation dedicated to public art. For more info about Weil Studio, visit: http://www.weilstudio.com.
Back to articles